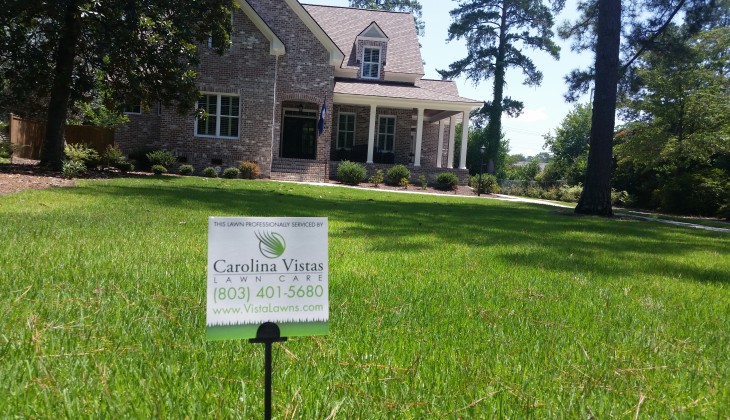 Who We Are
Carolina Vistas Lawn Care is a locally owned and operated professional lawn care company specializing in lawn fertilization, weed control and overall horticultural health for lawns in and around Columbia, South Carolina. Our programs are designed specifically for your lawn, and we utilize the best products and methods available for keeping the lawns of our Palmetto State healthy and beautiful.
Our personalized communication-rich approach to service provides our customers with accessible plant and turf care knowledge. We firmly believe that communication with our customers is the most important tool in maintaining a healthy and attractive landscape. Our expert services, combined with proactive client communication, allow us to form a powerful team in home lawn care.
Company History
Owners, Matt and Lindsey Vann moved to Columbia, SC in the fall of 2013 to pursue a new career opportunity for Lindsey. Prior to moving to Columbia, the couple lived in Richmond, VA where Matt managed 30+ lawn care professionals for a successful, locally owned and operated lawn care company. Matt decided to continue the work he loves in Columbia, and started a professional lawn care company based on the same agronomic and customer-oriented principles that he has come to believe in. That's because he knows first-hand what the result of this approach is a beautiful, healthy lawn and solid relationships with local people.
Company Bios
Matt is a graduate of Cornell University, and has over 15 years of experience working in horticulture and turfgrass management. Prior to moving to Columbia, Matt managed the daily operations of the highly skilled lawn care professionals at Virginia Green Lawn Care, in Richmond, VA, where he still maintains strong relationships.
Matt truly enjoys providing the highest level of service and attention to detail for the great people of Columbia, SC and the surrounding areas. When he isn't focused on meeting new people and establishing Carolina Vistas as one of the best lawn care companies in the Midlands, Matt enjoys hiking with his wife, Lindsey and their two dogs.