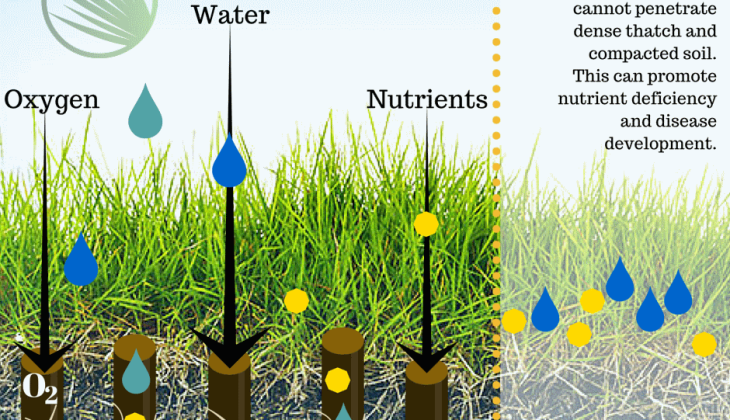 Carolina Vistas performs Double Core Aeration. That means our process removes twice as many cores from your soil as other aeration services. Double Core Aeration helps to improve soil structure, root health and the overall appearance of your lawn. Without regular aeration, your lawn can suffer from excessive thatch buildup, soil compaction, and poor water and nutrient availability.
Having your lawn aerated regularly will help promote healthy new root growth by allowing oxygen, water and nutrients to reach the root zone of your lawn. An aerified soil also makes it much easier for grass roots to grow and extend deep into the soil profile. A heavily compacted lawn can significantly restrict the movement of necessary elements, into the root zone of your turf, but it can also create problems above the soil's surface.
When your soil becomes compacted, the lack of oxygen can impair the activity of earthworms and other organisms which help to break-down and maintain the thatch layer of your lawn. When the thatch layer accumulates - generally to more than 1/2 inch - your lawn will be far more susceptible to insect and disease pressure. There are a number of turf-damaging insects that thrive in "thatchy" lawns. Also, the combination of compacted soil and excess thatch allow moisture to accumulate near the crown of the grass. Excess moisture over prolonged periods of time provide ideal conditions for lawn diseases to inflict damage to an already weakened turf, when soil is compacted.
Double Core Aeration has many benefits:
Twice as many holes in the soil, when compared to other aeration services
Promotes/enhances beneficial microbial activity in your soil, which helps reduce the buildup of harmful materials over time
Increases activity of earthworms and other thatch-decomposing organisms
Improves availability of air, water and nutrients in your soil
Core aeration severs roots, rhizomes and stolons and stimulates new shoot growth, leading to a thicker, healthier lawn
Decreases water runoff
Increases your lawn's tolerance to stresses like heat and drought conditions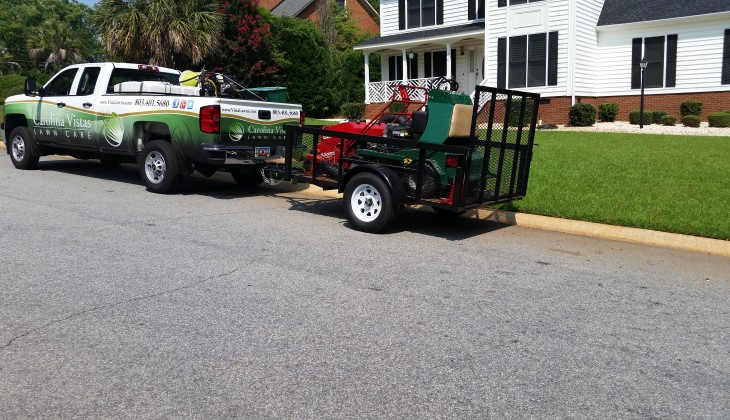 Aeration is a highly recommended service for most lawns. This is especially true if your soil has a high clay content. If you are interested in promoting healthy soil and turf, contact us to ask about our Double Core Aeration service.
Learn more about the benefits of Core Aeration.